Last Easter we enjoyed a family Cycling Adventure travelling through beautiful rural landscapes, visiting old villages and spending time sharing with the villagers.
Taking the whole family on holidays is not easy. There's lots of planning to do to make it a special time for all members and there are hours required to pack and plan for every eventuality… especially if you go on outreach. We took nine families with teenagers, children, even babies and with the single adults we were 38 people in total.
Each morning we took the time to worship and pray together and afterwards we humbly came to the Lord to ask what He had planned for us that day. We received impressions, visions, words of encouragement and Bible verses; many things from Him that helped us to understand His will for the villages we were about to enter. There are so many stories to tell about this time!
This is is just one of those stories, written by a 13 years-old teenager.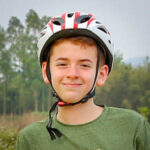 Pink sleepers that point the way
By Agustin Servant
I went on a Cycling adventure with my family and it was a great time. First of all, it was my brother Julian's birthday! We celebrated by eating his favourite food, dumplings and lots of them. Then we had a type of Chinese cake and my brother loved it so much. Later that evening we went to stay in a really nice hotel.
The next day, we started biking and going to the villages to share the Gospel.
One of the best parts of the trip was when we were praying in the morning asking God to speak to us. I felt God giving me an impression about pink Chinese slippers.
Sure enough, when we were passing by a village, I saw an old lady with pink slippers! So I said to my dad:
"Dad, I have found the pink slippers! Let's stop in this village!"
My dad responded, "Let's stop here then."
We stopped, put the bikes in a line against a wall and went to find the lady with pink slippers.
We couldn't find her.
The problem was, I saw the lady on one side of the village and we stopped our bikes on the other side! That is why by the time we got to the other side of the village, the lady was long gone.
I was highly discouraged.
But later I found out that we were not supposed to talk to the lady with pink slippers, but that she was going to lead us to another man…
When we went to the side where the old lady with pink slippers was, there was instead an older man named David. He was a great guy and he spoke English, which was surprising and when we shared the Good News with him, he openly accepted Jesus Christ as his Lord and Savior.
He was such a nice guy, he invited us to his home, gave us snacks, invited us to eat lunch (which we couldn't) and he even said he would have his house open if we wanted to sleep there. Obviously, we could not because we had like 40 people! But David was really awesome and until the end, he followed us until we went on our bikes. Even then, while we were leaving, he showed us that he actually donated a volleyball field for the village. I thought to myself, how nice of him. God, please bless him, and may he follow you to the end!